ATS BD Manager, Sandy Stirling, takes on a 24-hour challenge.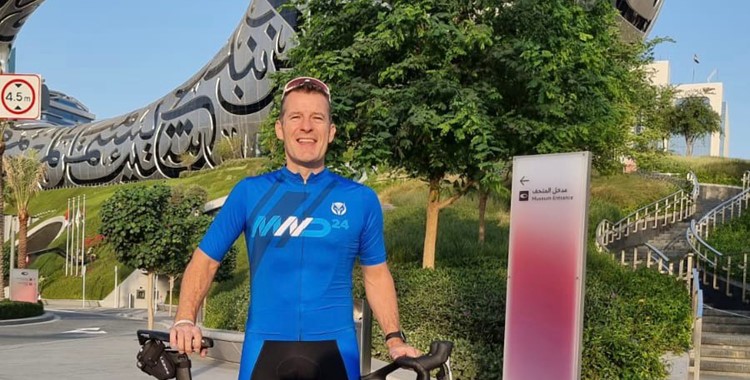 MND24: the 24-hour global movement fighting Motor Neuron Disease 
On the 11th of March, Sandy Stirling, ATS Business Development Manager, will cycle an unbroken 24-hour run to raise awareness of Motor Neuron Disease - an incredibly debilitating and life-shortening disease that affects both children and adults.
Sandy mentions-
"My father, Alexander Stirling, was diagnosed with Motor Neuron Disease in May 2016 after undergoing more than 2 years of tests. He passed away on the 9th of March 2019 at the age of 83. Inspired by Rob Wainwright and Ewan Dowes, who had undertaken cycling challenges for the My Name'5 Doddie Foundation and MNDA for Rob Burrows, as a tribute to the memory of my wonderful dad, I decided I would do a 12-hour cycle around Al Qudra on the first anniversary of his death."
After his 12-hour cycle, Sandy decided to take it one step further and do a global event, where people all over the world can participate and do anything for 24 hours, from playing golf, walking, dancing, and binge-watching Netflix. The ultimate goal of MND24 is to spread awareness of this disease and reach as many people as possible, in hopes that one day they will be able to find a cure for it.
ATS Involvement
ATS is among the countless groups that will be participating in this event. On March 12th, 2022, the ATS team will play 24 hours of Fooseball. The kickoff time is 9:00 am at ATS HQ.
The competition will feature 12 teams of two players each. The two teams will play against each other for an hour, which is equal to four hours of play. There will be a two-minute break between each match. In addition, there will be a 10-minute break between every hour.
Be part of MND24
Through MND24, you can assist in raising awareness of Motor Neuron Disease and work towards finding a cure for a disease that is difficult to diagnose, is impossible to predict, and is currently incurable.
ATS wishes Sandy all the best with this huge challenge he is about to embark on.